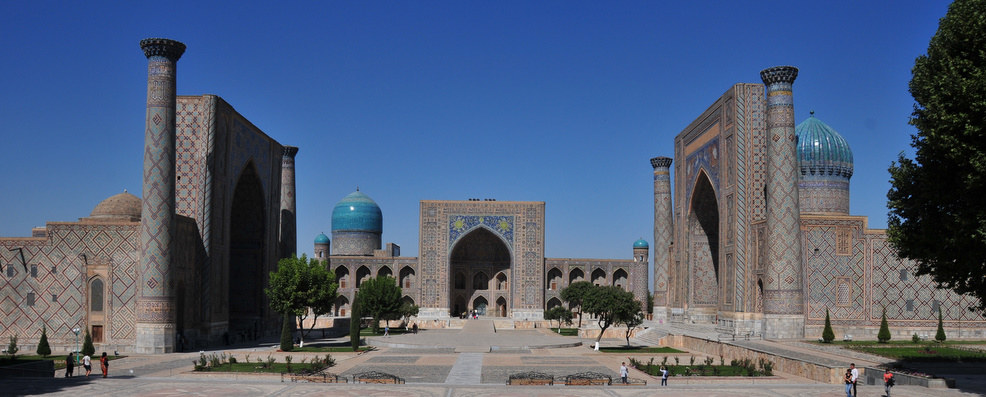 The first day in Uzbekistan started with yet again a visit to an embassy. This time we were racing to the Iranian embassy early in the morning to beat potential queues and get in first. To our big relief there was no huge crowd already waiting for us and we were let in straightaway and welcomed very friendly. We were even asked to take a seat in very comfy chairs while waiting to be called to the counter. We knew that the ministry in Tehran had already granted our visas (all pre-organised via an online visa agency) but after all of our visa and embassy experiences so far we were still a bit anxious if things would go smoothly. But we needn't have worried because everything went fine. The only thing we didn't expect was that a senior embassy official was called to also welcome us and then started to interview us about our relationship and our motives why we want to visit Iran. In the beginning this made us a bit nervous but we think he just wanted to make sure that we are aware of the restrictions for women that apply in Iran. He was even so kind to make sure that we would get our visa within a day rather than a week because we explained that we were planning to travel via Turkmenistan to Iran and needed to apply for a transit visa as soon as possible.
The next morning we went back early and received our visa stamp straightaway which gave us enough time to race to the Turkmenistan embassy before it would open. Now we had heard horror stories of this specific embassy and that's why we had decided to check the opening hours in the afternoon the day before. As soon as we got there we were met by a guard with a strict face saying 'militsia' (police) and gesturing wildly. Brilliant just what we wanted. If there is one thing you want to avoid in the Stan-countries are encounters with the police. After we had explained what we were doing there, it turned out that he was the guard at the gate of the embassy and in charge of the ominous waiting list on which you need to get your name on to be let in…. It also became pretty soon clear that he was after some bribes and we were in his hands if we ever wanted to get on that list. Left with no choice we paid up with a smile (but hidden frustration because that's against everything we believe in). At least it turned out that we were number 1 and 2 on the waiting list when we arrived. However, 'our friend' was only the guy who was in charge of what was going on outside the gate. The guy who opened the gate door from inside and then literally chased you up the stairs to the entrance door to open that one for you was the real deal. You really didn't want to piss him off. We spent about 30 seconds inside, enough time to hand over your visa forms and papers and have them ripped out of your hands. Not enough time to ask any questions because when Mister Gatekeeper decided we were done, he started pushing us out of the door and shouted at us so we would run faster down the stairs and out of the gate. Before we left we made sure to find to check when we should come back and ten fingers were held up (so that means in 10 days). Through the gate we managed to get him to scribble down the time and the date. Ok, done for now. For the next ten days we could finally feel like tourists again and just enjoy travelling around.
We started off exploring the various areas of Tashkent, a city where the contrasts couldn't be any bigger. On the one hand there is the sterile new (Russian)Tashkent with grand boulevards, impressive, official buildings, palaces, museums, parks – the clean, western city that the government wants to portray to the world. On the other hand, you've the old (Uzbek) Tashkent around the fascinating Chorsu bazaar with small alleys, bustling street vendors, women and men in traditional Uzbek clothes – the part of the city that the government tolerates but only to an extent. This divide in Tashkent is representative for the entire country. While people generally refrain from commenting on politics you do get the occasional comment from people praising one or the other way of life. These conversations all happen of course when people can't be overheard and especially when there is no police around. And police can be found almost on every corner in the country, especially in the metro in Tashkent. This is also the place where you're most likely to be checked as a tourist nowadays. But that's all harmless. The metro is itself an interesting sight because it was originally intended as a bunker and you can see some heavy steel doors in some of the corridors. The stations are very ornate, some with chandeliers, others with marble mosaics or pictures of famous Uzbek people. Unfortunately you're not allowed to take any pictures as it is the case with a lot of official buildings.
After two days in Tashkent we were ready to move on and to tackle The Big Three: the towns/cities Khiva, Bukhara and Samarkand where the most famous Central Asian architecture and attractions can be found. We got some 'platskartny' (hardsleeper) tickets for the 20 hour train ride to Urgench/Khiva and soon made friends with the people in our carriage who were keen to find out why on earth we were in the train. Again there was a lot of frustration that we didn't speak any Russian or Uzbek but we got a lot of golden teeth smiles. Like in Kazakhstan it must be easier and probably cheaper to simply cap all teeth in gold than fixing them and so we got a lot of gangster rapper smiles. The ride was pretty tough as it was incredibly hot in the carriage but it was definitely worth the trip. The old inner-walled town of Khiva, the Ichon-Qala, is the only ancient Central Asian town that is still fully preserved. However, some claim that it's too preserved and is now more a museum for tourists than a lived in town. Yes, half of the Ichon-Qala are old medressas (Islamic academies) full with souvenir shops or museums rather than being used as a place to study and the streets are also lined with tourist shops. But once the sun starts to set and the tour groups hop on their busses to get to their hotels in Kiva's new town, there is nothing nicer than wander around the old streets, meet the locals and eat some local food in one of the chaykana (teahouses). While there isn't much variety in Uzbek food, it's generally very tasty. The main dishes are plov (a rice dish with boiled carrots and a little bit of meat mainly eaten at lunch time), dolma (stuffed peppers and cabbage), laghman (a noodle soup with veg and meat), dimlama (dumplings filled with meat or veg) and of course shashlyk, meat or veg skewers grilled on charcoal. Of course no meal is complete without non (bread), a variety of salads, mainly tomato and cucumber salad, and either green or black chay (tea).
From Khiva we headed with a shared taxi to Bukhara, a more lived in, bigger version of Khiva. Shared taxis are often the best way to travel between towns and cities in Uzbekistan. They leave when full and cover long distances. The price depends on how good your haggling skills are and how hard it is to get petrol. At the moment it's unfortunately very hard to get petrol and we saw the longest queues you can imagine in front of petrol stations. Seriously, hundreds of metres long. Why? No one could give us a clear answer. So we drove cramped in the back across the desert and along many cotton fields to Bukhara where we spent a couple of very relaxing days. Bukhara is probably the most atmospheric of all The Big Three despite of the many souvenir shops and tourist bazaars. Unlike Khiva it has a lived-in old town and you almost feel set back in time when you wander through the streets full of stunning old buildings, medressas, mosques, minarets and mausoleums.
After Bukhara we were off to Samarkand, the last of The Big Three with the grandest and most impressive Timur buildings of Central Asia. And they were very impressive indeed. Just check out some of the pics. Not so impressive was that the government has decided to build a wall around some of the old part of the city and cut down many of the several hundred year old mulberry trees to replace them with rather ugly fir trees (because the president believes they're more fashionable). All this is part of the general trend to 'beautify' the cities. Nevertheless Samarkand was well worth the visit but it was time to head back to Tashkent to finally get our Turkmenistan visa. We were quite relaxed about having to go back to the embassy again because we only needed to pick up the visa. Well unfortunately things didn't turned out that great. When we went back at the date and time they told us, it turned out it was the wrong time and we had to return the next day and get on that stupid waiting list again. We turned up a couple of hours early, managed to get on the list, were let into the embassy in time only to find out that they processed James's visa but had somehow forgotten to process mine. Enough is enough. We didn't want to go through they whole application process again. So we turned on our heels, told them to get lost (very very quietly), headed to the Iranian Air office and got ourselves plane tickets to Tehran. We were very disappointed at first because we so wanted to make it all overland back to Vienna. But travelling should be fun and we were sick of embassies, queuing and angry (occasionally corrupt) guards. We must say that Central Asia is certainly not the easiest place to travel around. You spend an awful lot of time researching visas, border crossings and other bureaucratic stuff and there isn't that much up to date information available. But it's definitely worthwhile and (an adventure at the same time) if you are already in the neighbourhood.